Are you worried that you may be on your road to being broke due to the amount of debt you have?  If your debt is becoming more than what you can handle, don't lose hope; there are debt solutions available – we can help.
If you owe more than $10,000 worth of debt, you need to know about this information. Click below to know how we can help you find the best solution to your debt problem. We have hundreds of 5-star Google reviews.

Increasing Canadian Household Debt and Debt Solutions Available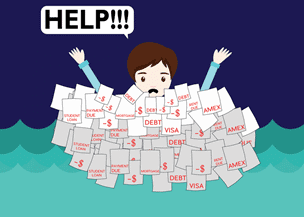 Due to the COVID-19 Pandemic, household expenses have increased and wages dropped at a significant rate due to unemployment and reduced work hours making it harder for people to pay off their debt.
The problem gets worse the longer the pandemic affects businesses, jobs, and wages. The risk is higher for individuals in a household that is highly indebted making it difficult for them to recover which could potentially end in default at the end of the COVID Crisis.
Having Credit Cards, Personal Loans, Payday Loans, Car Loans, Personal Taxes, HSTs, 407s, Household Bills, Payday loans, Student Loan debts can be overwhelming.
The good news is that there is a debt solution available to Canadians depending on your personal situation. Read on to know more about this government-approved debt solution.

Temporary Debt Solutions
1. Payment Deferrals
To counter the effect of COVID-19 on any immediate financial trouble, banks have provided deferrals on loans, mortgages, credit cards monthly minimum payments. According to data gathered by the Bank of Canada, about three-fifths of payment deferrals expired in September and 70 percent off deferrals on credit card debts and car loans.
2. Canada Recovery Benefit (CRB)
The government of Canada has introduced this new benefit after the CERB ended. With CRB, eligible people can receive up to $1,000 every two weeks in a period of 26 weeks. People who are not employed or self-employed due to COVID-19 can apply. If you have a 50% wage reduction every week compared to last year's income, you are also eligible. Click this link to learn more about the eligibility requirements of this debt solution.
Other Debt Solution Available to Canadians:
Debt Consolidation Canada (Your Best Option)
National Debt Relief Services have been helping Canadians create the most efficient solution to their debt problems for years. We are committed to providing a high quality of service to our clients needing help dealing with their debts.
Our debt consolidation can help eliminate 50%-75% off your debt, by merging all your Credit Cards, Personal Loans, Payday Loans, Car Loans, Personal Taxes, CERB, HSTs, 407s, Household Bills, Payday Loan, Student Loan debts into one single and affordable monthly payment.


We offer a free consultation to anyone living in Canada, and our service requires no upfront fees. We will also donate $1 to Sick Kids in Ontario for every successful 15-minute consultation. We have helped thousands of Canadians get out of debt with our government-approved debt relief programs.
Debt Solution Provider

As Canada's most trusted debt relief provider, we aim to provide the most efficient debt solutions that you can afford and sustain to be able to achieve a debt-free life.
We guarantee these amazing benefits:
Stop collection calls
Consolidate debts into an affordable monthly payment
Stop any potential lawsuit
Stop wage garnishment
Rebuild your credit score
You may also read more of our google reviews at this link to learn more about how we are helping hundreds of Canadians get out of debt fast and legally.
We care for your health and safety, stay home and get your free consultation via phone call or zoom.

"The agent was very knowledgeable and really made you feel at ease." – Valerie Andrada
"Brittany called me today after i had gotten discouraged about the application process. One small detail and she reassured me wasnt' going to be a factor in my eligibility. I was pleasantly relieved of a nagging stress about debt by having a real conversation with Brittany and confiding in her some personal things and she did the same. Clearly a caring and motivating conversation. Moving forward thanks. Update: got to the final signing stage a couple days ago and I don't think it has sunk in yet but I'm not afraid to answer my phone now☺Brittany talked me thru it and Im sure she is relieved to be finished. I was preoccupied with another issue and she was very patient with me and I needed her positive shine in all this! Cheers to your team." – KL H
We Serve These Cities and Surrounding Rural Areas:
Toronto, Mississauga, Scarborough, Brampton, Vaughan, North York, Markham, Oakville, Pickering, Ajax, Whitby, Richmond Hill, Newmarket, Caledon, Burlington, Etobicoke, St. Catharines–Niagara, Montreal, Vancouver, Calgary, Edmonton, Ottawa-Gatineau, Winnipeg, Quebec City, Hamilton, Kitchener, London, Victoria, Halifax, Oshawa, Windsor, Saskatoon, St. Katherines-Niagara Falls, Regina, St. John's, Kelowna, Barrie, Sherbrooke, Guelph, Abbotsford, Kingston, Kanata, Trois-Rivières, Moncton, Chicoutimi–Jonquière, Milton, Red Deer, Brantford, Thunder Bay, White Rock, Nanaimo, Sudbury, Lethbridge, Saint-Jean-sur-Richelieu, Peterborough, Kamloops, Saint-Jérôme, Chilliwack, Sarnia, Châteauguay, Drummondville, Belleville, Fort McMurray, Sault Ste. Marie, Prince George, Medicine Hat, Welland–Pelham, Grande Prairie, Airdrie, Granby, Fredericton, Saint John, Beloeil, North Bay, Saint-Hyacinthe, Brandon, Vernon, Cornwall, Joliette, Courtenay, Charlottetown, Victoriaville, Chatham, Georgetown, St. Thomas, Woodstock, Bowmanville, Salaberry-de-Valleyfield, Shawinigan, Rimouski, Spruce Grove, Sorel, Campbell River, Prince Albert, Penticton, Mission, Leamington, Moose Jaw, Stouffville, Lloydminster, Orillia, Stratford, Orangeville, Cape Breton–Sydney, Bradford, Leduc, Timmins, Okotoks, Saint-Georges, Keswick–Elmhurst Beach, Bolton, Val-d'Or, Cochrane, Quispamsis–Rothesay, Midland, Innisfil, Owen Sound, Brockville, Fergus, Lindsay, Collingwood, Cobourg, Alliston, Wasaga Beach, Valley East, Pembroke, Tillsonburg, Port Colborne, Fort Erie, Strathroy