Are you feeling the burden of having a huge debt? Are you unsure of what to do to get back on track and control your finances? If you are looking for a solution to eliminate your debt, credit counseling can help you find the answers to your questions. We will break down what credit counseling services are and how it works in Canada.

Credit Counselling Service
Credit counseling is a process or program to help debtors gain financial education, budgeting, and guidance to reduce and eliminate debt.
If you are having trouble paying your debt or have experienced an unexpected financial downshift due to COVID, you may want to talk to a Credit Counselling agency to help you fix things up. There are generally no qualifications to take on a credit counseling service in Canada.
A Credit Counselling agency can help you with 3 major services:
1. Personal Counselling (One-on-one)
2. Seminars on budgeting, how to use a credit card wisely, and more financial educational tips.
3. Debt Relief programs
Easy 3 Steps Process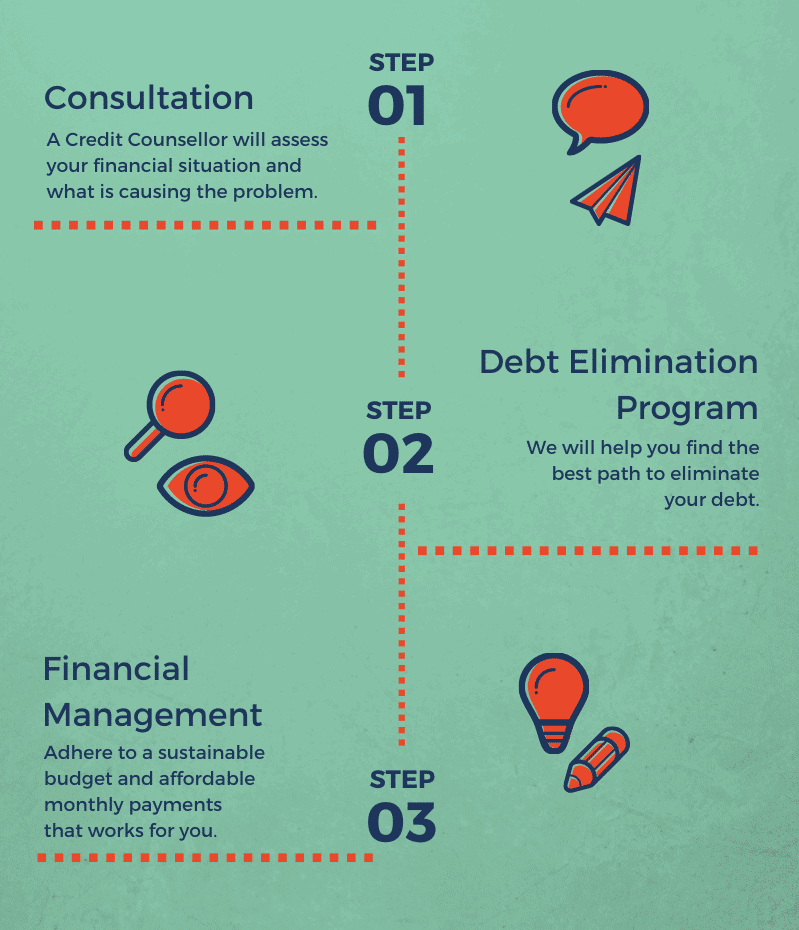 Finding the Best Credit Counselling Service
Both non-profit organizations and for-profit organizations offer credit counseling services to help Canadians handle or manage their debt wisely.
1. Do Your Research
A reputable organization must have good standing at a provincial or a national level, as most associations require members to maintain a specific standard of practice.
To check if there are complaints raised against a certain agency, check the below links:
It is also smart to look into how they are advertising their services. Some of the companies may claim the following:
Can quickly resolve your debt problems and just pay a fraction of it.
Will fix your credit score fast.
2. Know the Service Costs
It's your obligation to know the service costs of a credit counseling service, know if they offer a free consultation, types of services they offer, a concrete proposal of how they will go about helping you eliminate debt in a document format, do they provide support to help you manage finances, and are they going to provide a monthly statement of account to prove that the payments are being allocated to your creditors as discussed.
Credit Counselling FAQ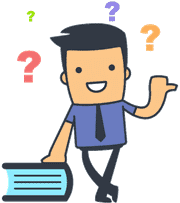 1. How long does it take to be debt-free when using credit counseling services?
It depends on each individual's situation. The factors that affect the length or duration of the programs are the amount you owe, the schedule of payments you have agreed with your credit counselor, and the number of interests your creditor is willing to reduce.
2. Does credit counseling affect my credit rating?
Your credit rating has been damaged by missing your debt payments already, and going to a credit counseling company to consult your options won't affect your credit score. But keep in mind, entering into a debt settlement or debt management might affect your credit in a way.
3. Does Credit Counselling Service help me stop Creditors from chasing me?
A credit counseling agency can work on your behalf. They will be the ones to discuss your debt repayments with your creditors so you can sit back and have peace of mind.
4. How does credit counseling service help me get out of debt?
Credit Counsellors will help you create a personalized debt repayment plan to propose to your creditors. This debt management program will be based on your capacity to sustain long term reasonable payment. Once your program starts, your creditors will stop contacting you, and the interests of your old debts will stop accumulating.

Review Your Options
Everyone's financial situation is unique. Before jumping into a conclusion and deciding, it is best to talk to different sources to learn how they will help you get out of a sticky situation.

Your decision must be based on the following:
How much debt will be repaired or eliminated.
What are the types of debt that will be included in a debt relief program.
The duration of your debt repayment.
How much your monthly amortization will be.
The consequences you might face when you fail to pay the monthly agreed amount.
Will this stop collection calls.
Are your assets safe.
What are the service fees and how much will it cost?
Compare your options from each company offering you a debt settlement or debt management program and decide which is the best option that suits your budget.
We at National Debt Relief Services work for you, not for any creditors, therefore you are assured that the debt management program we will be creating is in your favor, and can guarantee efficiency.
Click on the below button to get started now and take advantage of our Free Consultation. We understand COVID is still a threat, don't worry you don't need to leave your home to discuss your options. Our free consultation can be done through phone call or zoom.
Let's discuss your options!

"Wow! Where to even start!? I've had the pleasure dealing with Suma, such an amazing young women, not only is she professional, but she makes you feel comfortable and helps you with all your needs and questions!!! I have nothing, but good to say about how she helped me out, I felt like I was drowning in debt, and now I'm going to sleep well at night knowing I can afford everything!!! I can't thank her enough, and highly recommend speaking with her! All in the comfort of your own home❤️ Stay safe everyone!" – Shauna Cormier
"Lori was very professional and clear in helping me out with my debt issues. I would highly recommend her services to help yourself in coming up with a plan to ease your debts and take your stress away. Thank you Lori Wock." – Jamie Erickson
Serving These Cities and Surrounding Rural Areas:
Toronto, Mississauga, Scarborough, Brampton, Vaughan, North York, Markham, Oakville, Pickering, Ajax, Whitby, Richmond Hill, Newmarket, Caledon, Burlington, Etobicoke, St. Catharines–Niagara, Montreal, Vancouver, Calgary, Edmonton, Ottawa-Gatineau, Winnipeg, Quebec City, Hamilton, Kitchener, London, Victoria, Halifax, Oshawa, Windsor, Saskatoon, St. Katherines-Niagara Falls, Regina, St. John's, Kelowna, Barrie, Sherbrooke, Guelph, Abbotsford, Kingston, Kanata, Trois-Rivières, Moncton, Chicoutimi–Jonquière, Milton, Red Deer, Brantford, Thunder Bay, White Rock, Nanaimo, Sudbury, Lethbridge, Saint-Jean-sur-Richelieu, Peterborough, Kamloops, Saint-Jérôme, Chilliwack, Sarnia, Châteauguay, Drummondville, Belleville, Fort McMurray, Sault Ste. Marie, Prince George, Medicine Hat, Welland–Pelham, Grande Prairie, Airdrie, Granby, Fredericton, Saint John, Beloeil, North Bay, Saint-Hyacinthe, Brandon, Vernon, Cornwall, Joliette, Courtenay, Charlottetown, Victoriaville, Chatham, Georgetown, St. Thomas, Woodstock, Bowmanville, Salaberry-de-Valleyfield, Shawinigan, Rimouski, Spruce Grove, Sorel, Campbell River, Prince Albert, Penticton, Mission, Leamington, Moose Jaw, Stouffville, Lloydminster, Orillia, Stratford, Orangeville, Cape Breton–Sydney, Bradford, Leduc, Timmins, Okotoks, Saint-Georges, Keswick–Elmhurst Beach, Bolton, Val-d'Or, Cochrane, Quispamsis–Rothesay, Midland, Innisfil, Owen Sound, Brockville, Fergus, Lindsay, Collingwood, Cobourg, Alliston, Wasaga Beach, Valley East, Pembroke, Tillsonburg, Port Colborne, Fort Erie, Strathroy