What is Debt Consolidation?
It is a government-approved program which gives you the option to off all your debts with a single loan.  You will have a single debt to pay off all other debts at a lower interest. This means you'll only be making a single payment every month.
It is generally used as a debt relief option to pay off bad debts (credit card debt, car loans, or line of credit debt – all of which can accumulate quickly) that have gotten out of control.

When should I consider taking a Debt Consolidation?
If you have multiple debts such as Credit Cards, Personal Loans, Car Loans, Taxes, CERB, HST, 407, Household Bills, Payday Loans, CERB, and student loan with higher interest rates and is experiencing trouble paying, this debt consolidation program is the best option for you to deal with your debt.

Types of debt that can be included in a debt consolidation program:
Credit Card debt – This is a type of debt that can accumulate huge interest rapidly. Including this in debt consolidation can greatly cause debt relief.
Personal Loan debt – Having a personal loan for a huge purchase like furniture or home improvements, emergency expenses, medical expenses, and car repair is like an unstoppable train that could suddenly spike up your debt.
Household Bills/Utilities Bills – Missing payments towards your electricity, water, or gas bills can affect your credit score as well. It can also accumulate fees that will keep on adding up if you continue to keep a balance up.
Student Loan – For some provinces, a student loan is allowed to be included in a debt consolidation program to help students or graduates have a fresh start.
Personal Taxes including CERB – CRA is a very powerful debt collector, they can access extreme means to collect taxes. The debt consolidation will help pay off taxes and stop CRA from harassing you.
Four C's to Qualify for Debt Consolidation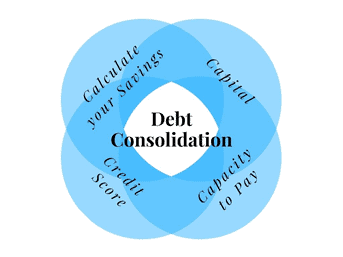 1. Calculate Your Savings
Use our free debt savings estimate calculator to know if you pre-qualify for a personalized debt consolidation program. If you owe above $10,000 of debt, you pre-qualify for this program. Click the button below to use our free debt savings calculator. Once you fill-up the information, you will be able to speak to one of our specialists to discuss your current financial situation and create a personalized debt savings plan.

2. Credit Score
As financial institutions will look into the level of risk of lending you the money to pay off other debts, we will have credit rating under review. Unfortunately, those with seriously bad credit won't be able to get approved.
3. Capacity-To-Pay
Creditors will look into your financial status for assurance that you will be able to sustain the debt repayments. Will they be able to get more than they'd normally get if you get defaulted? Your employment status or other income will also matter. These are some of the things they will be checking about your debt consolidation application.
4. Checklist of What You Owe
Provide a complete list of all your debts when discussing your debt consolidation with us. This will help us assess your current financial situation accurately and could speed up the process. Remember to include all your debts: Credit Cards, Personal Loans, Car Loans, Taxes, CERB, HST, 407, Household Bills, Payday Loans, and student loan.
Best Canadian Debt Consolidation Program by National Debt Relief Services
We are a team of professional, friendly, and expert debt specialists in the field. We assure you that the program we are creating for you is tailor-fitted based on your financial situation and above all, affordable. What makes our debt consolidation the best in Canada is we offer no Upfront Fees. We will provide you a free consultation, no risks, no obligation, and no commitment.
We give back to the community by donating $1 to every successful 15-minute consultation. No need to go to our office, we can assist you with your questions and concerns through phone call or via Zoom.
You can also read our hundreds of 5-star Google Reviews at this link below.
Stay home and keep away from threats of COVID. Simply click on the below button to get your free consultation via zoom or phone call.

"I dealt with Dawn Burke. She was a God send! It is rare to deal with someone who sees you as person in need of some real information. She takes helping people seriously, and gives you honest choices. If you are looking for some advice and some good options, don't hesitate to call her! I'm glad I did!" – Lorraine Hickson
"Connie was So personable and so helpful this came from her heart. I have been so worried and so under pressure dealing with this debt. She is responsive she is knowledgable she's pretty Fessional she is in always a five-star experience." – off to Dubai
Serving These Cities and Surrounding Rural Areas:
Toronto, Mississauga, Scarborough, Brampton, Vaughan, North York, Markham, Oakville, Pickering, Ajax, Whitby, Richmond Hill, Newmarket, Caledon, Burlington, Etobicoke, St. Catharines–Niagara, Montreal, Vancouver, Calgary, Edmonton, Ottawa-Gatineau, Winnipeg, Quebec City, Hamilton, Kitchener, London, Victoria, Halifax, Oshawa, Windsor, Saskatoon, St. Katherines-Niagara Falls, Regina, St. John's, Kelowna, Barrie, Sherbrooke, Guelph, Abbotsford, Kingston, Kanata, Trois-Rivières, Moncton, Chicoutimi–Jonquière, Milton, Red Deer, Brantford, Thunder Bay, White Rock, Nanaimo, Sudbury, Lethbridge, Saint-Jean-sur-Richelieu, Peterborough, Kamloops, Saint-Jérôme, Chilliwack, Sarnia, Châteauguay, Drummondville, Belleville, Fort McMurray, Sault Ste. Marie, Prince George, Medicine Hat, Welland–Pelham, Grande Prairie, Airdrie, Granby, Fredericton, Saint John, Beloeil, North Bay, Saint-Hyacinthe, Brandon, Vernon, Cornwall, Joliette, Courtenay, Charlottetown, Victoriaville, Chatham, Georgetown, St. Thomas, Woodstock, Bowmanville, Salaberry-de-Valleyfield, Shawinigan, Rimouski, Spruce Grove, Sorel, Campbell River, Prince Albert, Penticton, Mission, Leamington, Moose Jaw, Stouffville, Lloydminster, Orillia, Stratford, Orangeville, Cape Breton–Sydney, Bradford, Leduc, Timmins, Okotoks, Saint-Georges, Keswick–Elmhurst Beach, Bolton, Val-d'Or, Cochrane, Quispamsis–Rothesay, Midland, Innisfil, Owen Sound, Brockville, Fergus, Lindsay, Collingwood, Cobourg, Alliston, Wasaga Beach, Valley East, Pembroke, Tillsonburg, Port Colborne, Fort Erie, Strathroy