Debt consolidation is a process of combining two or more debts into one. It is a method of debt repayment which gives the debtor the ease of managing multiple debts into a single monthly payment. It is a great option if you want to pay down debt and improve cash flow.
Unsecured debts such as credit cards, personal loans, and payday loans are a good example of debts that usually get consolidated into a debt consolidation loan at a lower interest rate. Continue reading to learn how our Canada Debt Consolidation works and how it can help you get rid of debt.

Is Debt Consolidation the Right Option to Eliminate Your Debt?
Debt consolidation works but not for everyone. Financial situations is different from one another; solutions to our debt problems may vary as well for each person. To find out if you are ready to take on a debt consolidation loan and to know whether it is the right option for you, read below.
Find the cause of your huge debt.
This is important as you have to make sure that you are fully aware of why you continue to experience increasing debts. You will need to re-assess yourself and make a strict disciplinary precaution to avoid incurring more debt and end up with a huge debt again and again.
Determine your Debt-To-Income Ratio.
It is a method of measuring how much an individual's debt is and how much money he earns.
Understand your budget.
Before deciding to take on a major financial change, you need to know where you stand in terms of your finances. The budget should be an important aspect that affects your decision. This should guide you on how much you can afford to pay with the new loan you are going to take.
Duration of the Loan
If a person is taking a loan with a pretty long duration, he/she should rethink. The chances of experiencing financial hardship in a span of 5 years are higher compared to a shorter duration.
Allocate a fixed budget
Calculate how much your monthly expenses (bills, groceries, and medicines) and see whether a fixed budget will fit just right. You should see to it that you are not going to be in a position where you'll struggle to pay your monthly dues.

---
Advantages and Disadvantages of Debt Consolidation
Merging your debt into a single loan sounds like an easy fix; however, just like any other loan, there are advantages and disadvantages. These are things you need to think about before starting.
Advantages:
Debt Simplification
A Debt Consolidation will merge all your debt into a single and affordable monthly payment. This will be easier for you to manage as you only have one payment to remember each month. It will also be a fixed amount of payment in a fixed time duration.
With a lower interest rate, you'll be able to pay off your debts much easier and faster.
Preservation of your credit
Being able to pay your monthly payments will see an improvement in your credit score in the long term.
Disadvantages:
Could lead to more debt
If you fail to comply with the payments of your debt consolidation, it could eventually lead you to more debt – which is going to be bad for your credit.
You should have a not-so-bad credit rating to qualify. Some banks will look into your debt-to-income ratio to determine your eligibility and risks.
The duration of your debt consolidation could be as short as 12 months or as long as 60 months. This depends on how much your debt is and how much budget you allocate towards paying it.
---
What You Can Do to Eliminate Debt with Debt Consolidation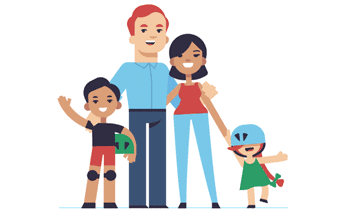 Follow your budget.
You need to make sure you are following a strict budget. This will help you avoid overspending and eventually not being able to make your payments.
Avoid Using Credit Cards
The relief that debt consolidation provides is great; this is because all your credit cards are paid off by a new loan. Make sure to avoid using your credit cards unless it's for an emergency. You don't want to incur more debt with unnecessary spending while a debt consolidation program.
We are Canada's most trusted name in debt relief. We are a legitimate company that helped thousands of Canadians get out of debt fast and legally. We offer Government-Approved Debt Consolidation Options.
How We Can Help You
We'll help you create a personalized debt relief and consolidation program that will reduce and eliminate up to 50%-75% of your debt. This is a government-approved program designed to help Canadians get out of debt. We help consolidate Credit Cards, Personal Loans, Car Loans, Personal Taxes, CERB, HST, 407, Household Bills, Payday Loans, and CRA debts.

We provide free consultation for anyone living in Canada and experiencing severe debt problems. If you owe more than $10,000 worth of debt, we can help you. Our free consultation has no commitment, no obligation, and no risks. Even if you don't use our service, you'll be able to understand how this debt relief option works and how it can help solve your debt problem.
We help the community by donating $1 for every 15-minute consultation. Hundreds of Canadians are experiencing debt relief every day with our debt relief options. Let us help you; we will share all information that you need to know about this amazing program.
Click below for a free quote and a personalized debt relief plan from a Certified Debt Specialist! We understand COVID is still a threat, don't worry you don't need to leave your home to discuss your options. Our free consultation can be done through phone call or zoom.

Want to know what our clients have to say about us? Check out our Google Reviews at this link.
"MIcheal Cowan was very professional,caring,and explained everything and you could contact him anytime if you had questions. I'd recommend him" – Gars Lat
"Fanoula Filtsos was an ABSOLUTE delight to work with. She was constantly updating me on progress, she ALWAYS answered her phone, she was honest, very thorough with every detail and most importantly she made me feel at ease during this entire process." – Sleevin
Serving These Cities and Surrounding Rural Areas:
Toronto, Mississauga, Scarborough, Brampton, Vaughan, North York, Markham, Oakville, Pickering, Ajax, Whitby, Richmond Hill, Newmarket, Caledon, Burlington, Etobicoke, St. Catharines–Niagara, Montreal, Vancouver, Calgary, Edmonton, Ottawa-Gatineau, Winnipeg, Quebec City, Hamilton, Kitchener, London, Victoria, Halifax, Oshawa, Windsor, Saskatoon, St. Katherines-Niagara Falls, Regina, St. John's, Kelowna, Barrie, Sherbrooke, Guelph, Abbotsford, Kingston, Kanata, Trois-Rivières, Moncton, Chicoutimi–Jonquière, Milton, Red Deer, Brantford, Thunder Bay, White Rock, Nanaimo, Sudbury, Lethbridge, Saint-Jean-sur-Richelieu, Peterborough, Kamloops, Saint-Jérôme, Chilliwack, Sarnia, Châteauguay, Drummondville, Belleville, Fort McMurray, Sault Ste. Marie, Prince George, Medicine Hat, Welland–Pelham, Grande Prairie, Airdrie, Granby, Fredericton, Saint John, Beloeil, North Bay, Saint-Hyacinthe, Brandon, Vernon, Cornwall, Joliette, Courtenay, Charlottetown, Victoriaville, Chatham, Georgetown, St. Thomas, Woodstock, Bowmanville, Salaberry-de-Valleyfield, Shawinigan, Rimouski, Spruce Grove, Sorel, Campbell River, Prince Albert, Penticton, Mission, Leamington, Moose Jaw, Stouffville, Lloydminster, Orillia, Stratford, Orangeville, Cape Breton–Sydney, Bradford, Leduc, Timmins, Okotoks, Saint-Georges, Keswick–Elmhurst Beach, Bolton, Val-d'Or, Cochrane, Quispamsis–Rothesay, Midland, Innisfil, Owen Sound, Brockville, Fergus, Lindsay, Collingwood, Cobourg, Alliston, Wasaga Beach, Valley East, Pembroke, Tillsonburg, Port Colborne, Fort Erie, Strathroy