Learn how to reduce your debt by 50-80% within 5-7 days
No contact details required to find out if you qualify
Best Canadian Debt Consolidation Program
If you are living in Ontario and suffering from debt problems, you need to know this information now.
Know more about us and what we can do by clicking on the button below…

We donate $1 for every consultation.
Helped with
$ 27,000
$ 41,500
$ 35,000
$ 17,000
$ 23,500
$ 46,340
$ 21,000
$ 35,000
$ 26,700
$ 65,500
$ 57,400
$ 17,500
$ 75,500
$ 63,000
$ 35,000
$ 18,500
$ 55,000
$ 85,500
$ 43,000
$ 29,500
$ 27,800
$ 41,200
$ 35,800
$ 85,000
in debt
1 day 3 days 3 days 8 days 7 days 6 days 12 days 9 days 3 days 6 days 1 day 4 days 2 days 1 day 7 days 5 days 8 days 6 days 12 days 16 days 5 days 8 days 2 days 7 days ago in debt in
Orillia

Huntsville

Peterborough

Toronto

Brampton

Kitchener

Mississauga

Hamilton

Belleville

Kingston

Cornwall

Oshawa

Ajax

St. Catharines

London

Sarnia

Windsor

Sault Ste. Marie

Elliot Lake

Sudbury

North Bay

Timmins

Thunder Bay

Ottawa
What is Debt Consolidation?
It is a government-approved program which gives you the option to off all your debts with a single loan.  You will have a single debt to pay off all other debts at a lower interest. This means you'll only be making a single payment every month.
It is generally used as a debt relief option to pay off bad debts (credit card debt, car loans, or line of credit debt – all of which can accumulate quickly) that have gotten out of control.
When should I consider taking a Debt Consolidation?
If you have multiple debts such as Credit Cards, Personal Loans, Car Loans, Taxes, CERB, HST, 407, Household Bills, Payday Loans, CERB, and student loan with higher interest rates and is experiencing trouble paying, this debt consolidation program is the best option for you to deal with your debt.
Types of debt that can be included in a debt consolidation program:
Credit Card debt – This is a type of debt that can accumulate huge interest rapidly. Including this in debt consolidation can greatly cause debt relief.
Personal Loan debt – Having a personal loan for a huge purchase like furniture or home improvements, emergency expenses, medical expenses, and car repair is like an unstoppable train that could suddenly spike up your debt.
Household Bills/Utilities Bills – Missing payments towards your electricity, water, or gas bills can affect your credit score as well. It can also accumulate fees that will keep on adding up if you continue to keep a balance up.
Student Loan – For some provinces, a student loan is allowed to be included in a debt consolidation program to help students or graduates have a fresh start.
Personal Taxes including CERB – CRA is a very powerful debt collector, they can access extreme means to collect taxes. The debt consolidation will help pay off taxes and stop CRA from harassing you.
Four C's to Qualify for Debt Consolidation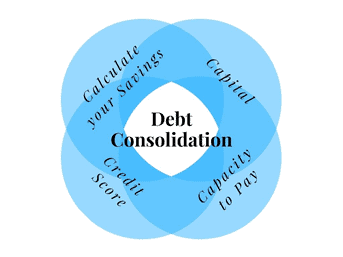 1. Calculate Your Savings
Use our free debt savings estimate calculator to know if you pre-qualify for a personalized debt consolidation program. If you owe above $10,000 of debt, you pre-qualify for this program. Click the button below to use our free debt savings calculator. Once you fill-up the information, you will be able to speak to one of our specialists to discuss your current financial situation and create a personalized debt savings plan.
2. Credit Score
As financial institutions will look into the level of risk of lending you the money to pay off other debts, we will have credit rating under review. Unfortunately, those with seriously bad credit won't be able to get approved.
3. Capacity-To-Pay
Creditors will look into your financial status for assurance that you will be able to sustain the debt repayments. Will they be able to get more than they'd normally get if you get defaulted? Your employment status or other income will also matter. These are some of the things they will be checking about your debt consolidation application.
4. Checklist of What You Owe
Provide a complete list of all your debts when discussing your debt consolidation with us. This will help us assess your current financial situation accurately and could speed up the process. Remember to include all your debts: Credit Cards, Personal Loans, Car Loans, Taxes, CERB, HST, 407, Household Bills, Payday Loans, and student loan.
Best Canadian Debt Consolidation Program by National Debt Relief Services
We are a team of professional, friendly, and expert debt specialists in the field. We assure you that the program we are creating for you is tailor-fitted based on your financial situation and above all, affordable. What makes our debt consolidation the best in Canada is we offer no Upfront Fees. We will provide you a free consultation, no risks, no obligation, and no commitment.
We give back to the community by donating $1 to every successful 15-minute consultation. No need to go to our office, we can assist you with your questions and concerns through phone call or via Zoom.
You can also read our hundreds of 5-star Google Reviews at this link below.
Stay home and keep away from threats of COVID. Simply click on the below button to get your free consultation via zoom or phone call.
Our Clients 5-Star Reviews Lorraine Hickson
"I dealt with Dawn Burke. She was a God send! It is rare to deal with someone who sees you as person in need of some real information. She takes helping people seriously, and gives you honest choices. If you are looking for some advice and some good options, don't hesitate to call her! I'm glad I did!" off to Dubai
"Connie was So personable and so helpful this came from her heart. I have been so worried and so under pressure dealing with this debt. She is responsive she is knowledgable she's pretty Fessional she is in always a five-star experience." Jennifer Chenier
I was lost ... single mom... off due to Covid for 3 months .. did what it took to pay bills and look after my kids... and left with nothing but a tonne of debt I could not keep up with 😢. And then ....I met Connie.. Connie gave me my life back. The entire experience was like talking to my mother. She was full of compassion and knowledge and took me under her wing for this entire process. She turned tears into smiles and hope . She reassured me.. and made me feel like it was Going to be ok. I can't thank her and the team (Paul) enough for helping me through this . I highly recommend National Debt Services to anyone looking for help with their debt . Start living again ❤️. Thanks Connie Jen
Top 5 Key Benefits of our Ontario Debt Relief Program:
To know more what you can benefit from our Ontario Debt Relief Program, simply try our Debt Consolidation Calculator below and one of our debt specialists will get in touch with you and provide you the best debt relief option that fits your situation.
No contact details required to find out if you qualify

We donate $1 for every valid consultation.
Do you want to experience Peace of Mind from all of these?
Credit Card Debts
Personal Loans
Car Loans
Taxes
HST
407
Household Bills
Payday Loans
Student Loan
and more…
Talk to us! We will help you get out of debt.
We will help you reduce as much as 75% of your debts and consolidate it into a single affordable monthly payment. Your creditors will stop harassing you and all interest will freeze if you get into our Ontario Government Debt Relief Program.
Many Ontarians are already benefiting from our Debt Relief Program, YOU should too!
Find out how much you can write off portion of your debts by getting your Free Savings Estimate below. A debt specialist from National Debt Relief Services in Ontario will discuss all options and provide you tailor-fitted Debt Relief Program.
We will help you compare
the options and savings of all formal debt relief programs available to you.
No contact details required to find out if you qualify

We donate $1 for every consultation.
Frequently Asked Questions
Why Trust National Debt Relief Services?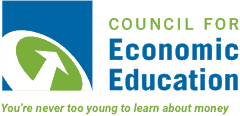 Proud to support financial literacy education
See What Our Customers Have To Say
I've been working with Allicia Macdonald shes very professional and sweet. I cant thank her enough for helping me rebuild my life. Thank you so much.
Today I had a wonderful experience with Rachael, she was Very professional I was very happy with what we talked about today she was very Caring I highly recommend national debt relief services hundred percent😃
Jennifer Magill
18/09/2020
Brittany was awesome, she explained everything clearly and offered solutions every step of the way. It's always nice to hear that you could do this or that, I didn't feel forced to do anything and was able to decide clearly. Thank you 🙏🏼
This company will work with you and through any difficulties that may arise. They actually hold themselves accountable, how refreshing during troubling economic times.
I have a great experience working with Suma, she work me through the program, takes her time to explain everything to me about how the program work, what I need to do from start to end of the process. I'm so thankful to God for sending an angel Suma to help relief my debt. It's a great company to work with. I will recommend this program for anyone in debt like me.
Donna Hutchings
18/09/2020
Connie B. was absolutely awesome! She explained everything in detail to me. Very professional to work with and takes the time with you. She really has compassion. So glad she helped me out. Thank you
Joel has made this so simple and effortless he made sure i was well informed and making the right decisions for my situation i would recommend joel at national dept Relief to anyone in hardship with there bills thanks alot joel i really appreciate everything you have done for me thanks!! 5 stars for sure! and its chad ball not my mom lynn lol
I had a great experience with Brittany, so helpful and understanding. Never felt like I was being pressured or rushed into anything. She was always there with answers to my questions. Thanks for all the help and peace of mind you helped me achieve.
Amber-lyn Miller
17/09/2020
Let's Just Put It Simple....... Not All Hero's Wear Caps........I spoke with Suma over a fairly lengthy period of time because of my busy schedule and lack of free time on my part, and she was not only extremely patient and understanding, but also beyond helpful And informative. Any question I had and no matter how many times she had to explain it to me she took her time to make sure I completely understood every single step and process before she moved on to the next thing. I have been so stressed out and worked up about my debt and trying to figure out how to fix it all since I know I will not be returning to work at all in the future because of medical issues and being 26 with that realization makes things just that more stressful but Suma made everything so easy and my payments are $100 a month for less then 5 years with no interest or penalties for early pay off. I'm so glad that I didn't settle with some other place that was asking for $350 + a month for 7-12 years and paying off early would cost you more.
Jessica Preston
17/09/2020
Caroline F. was phenomenal, she was so helpful, understanding and compassionate. Caroline did not make me feel bad for my mistakes, she was supportive and caring, she helped me through this dark time in my life I'm so incredibly happy I crossed paths with her. Thank you Caroline for being so wonderful to me! <3
Plus we give back with every customer.

We donate $1 for every consultation.
We Help Over 200+ Ontario Clients Per Day
We're here to help you consolidate your debt.
Get a free savings estimate today. There is no obligation.

We donate $1 for every consultation.