It is common for Ontarians to take a loan to buy a house and a vehicle, or use a credit card to purchase goods and services. This is the reason why Ontarians take debt consolidation as their number one solution to pay off the outstanding balances for Credit Cards, Personal Loans, Car Loans, Personal Taxes, CERB, HSTs, 407s, Household Bills, Payday Loan, Student Loan debts. Read on about the Ontario Debt Consolidation to know more.
In a study conducted by Statistics Canada, debtors in Ontario owes an average between $124,700 and $157,700 compared to the national average of $114,400. That means that people in Ontario are one of the top borrowers among other provinces in Canada.
If you live in Ontario and have over $10,000 worth of debt, you need to know this information now and take action before it gets more uncontrollable. We are Canada's most trusted debt relief company that helped thousands of Canadians get out of debt as easily as just 7 days..
If you want to learn how our Debt Consolidation Program works in Ontario, click the button below to apply and one of our expert debt specialists will get in touch with you as soon as possible.

Top Reasons How People in Ontario Get Stuck in Debt.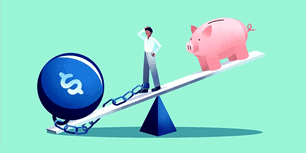 Below are some of the most common root causes of debt in Ontario:
Excessive use of credit cards and failure to pay the full balance before the bill is generated.
Loss track of multiple credit cards.
Getting laid off from work.
Reduced work hours.
Expensive mortgage beyond your budget,
Unexpected expenses such as car repairs, hospitalization, house repairs.
6 Benefits of our Debt Consolidation Program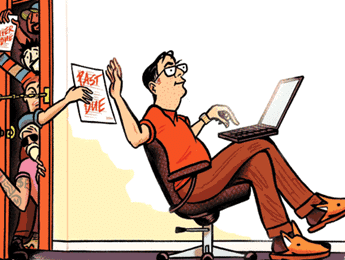 Simplify Your Debt Repayments
Debt consolidation makes debt repayments much easier and a guaranteed much lesser monthly payment if you opt for a longer pay off period. This benefit is best for people who have multiple credit cards and loans. Merging your debt into one makes it more manageable and easier to meet payments every month.
If you have unpaid debts or behind on your monthly payments, that means you've been receiving collection calls from your creditors already. With debt consolidation, this stressful situation will stop from the day your application is filed and approved. No more harassing collection calls.
Some loans put a portion of your salary on hold. For most people, having their salary spent on deductions even before it gets into their wallets is a painful scenario. Debt consolidation will stop wage garnishment so you can get your salary in full and pay your debt voluntarily.
All the interest that is continuously accruing from all your debt, especially credit cards that have the highest interest rates, will stop immediately once included in the debt consolidation. This makes debt consolidation an amazing program as it will stop debt from piling up, which usually happens because of the interest that adds up to your debt every single day.
Chance to Rebuild Your Credit
Before even applying for debt consolidation, your credit score might have been damaged already due to the amount of debt you have and the financial condition you are in. Debt consolidation can help you improve your credit score as you will eventually be debt-free soon and be able to establish a good payment history.
Debt is known to lead to stress. Having the above-mentioned benefits, you are less likely to experience financial stress. By being able to be in control again of your finances, you'll have a clearer mind and could find yourself in a better financial position.
Our Ontario Debt Consolidation, Is It Right for You?
Consolidating your debt can be the best choice you'll ever make when dealing with multiple debts, however, this still depends on your situation. Debt consolidation is best for individuals who:
Have multiple credit cards and different payment dates, sometimes losing track of the payments.
Wants to stop collection calls from creditors or collection agencies.
Looking to pay a more affordable monthly payment.
Want to improve his/her credit.
Wants to improve cash flow and build up an effective budget.

How to Apply for Ontario Debt Consolidation in Ontario?
Our team of expert debt professionals will help you create a personalized debt relief and consolidation program to solve your debt problems. We take into consideration your income, debt value, expenses, and assets to make sure we are creating an efficient debt relief program for you that you can sustain and complete. We don't charge upfront fees!
2. We deal with your creditors.
Once a debt consolidation application is created, it is now needed to be approved by the majority of your creditors. Our job is to have your application approved, with our extensive knowledge and years of experience, we have already created a strong relationship with known financial institutions. This makes it easier for us to have your debt consolidation approved in as fast as 5-7 days.
Now is your turn to perform your obligation, to pay the agreed debt consolidation monthly payment. Once completed you'll receive a "Certificate of Full Performance" as documentary proof of your successful completion of the program.

Our government-approved debt consolidation program is the most efficient and reliable debt relief options available to anyone living in Ontario and has over $10,000 worth of debt. We helped hundreds of Ontarians every day, reduced their debt by up to 50%-75%. This is the best option to eliminate debt without going thru the painful process of other debt relief programs.
We offer a free consultation to Ontario Residents, no risks, no obligation, and no commitments! Even if you don't use our service, you'll know how important and how beneficial this program is and how it can change your life. Click the button below to read hundreds of 5-star Google Reviews about us.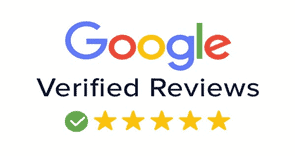 National Debt Relief Services donate $1 to Sick Kids in Ontario for every successful 15-minute consultation with new clients. This is our way of giving back to the community.
Our team will help you create a personalized debt consolidation program via phone call or zoom. You don't need to leave your home and risk your health and safety.

"National Debt Relief Services is trustworthy and i would highly recommend it to anyone. Joe, one of their reps who helped me always respond to my calls,text,& e-mails. He is amazing. My experience with them is that it's not the end of the world because of your credit situation. HIGHLY RECOMMENDED!" – Richard Haywood
"I was struggling with my debts and this program help me to be able to sleep at night again…. my representative Suma Matthews was kind ,understanding ,helpful and inspiring … I recommend this program to everybody who got debt problems Israel" – israel Loyo
Serving These Cities and Surrounding Rural Areas:
Toronto, Ottawa–Gatineau (ON/QC), Hamilton, Kitchener, London, Oshawa, Windsor, St. Catharines–Niagara, Barrie, Guelph, Kingston, Kanata, Milton, Brantford, Thunder Bay, Sudbury, Peterborough, Sarnia, Belleville, Sault Ste. Marie, Welland–Pelham, North Bay, Cornwall, Chatham, Georgetown, St. Thomas, Woodstock, Bowmanville, Leamington, Stouffville, Orillia, Stratford, Orangeville, Bradford, Timmins, Keswick–Elmhurst Beach, Bolton, Midland, Innisfil, Owen Sound, Brockville, Fergus, Lindsay, Collingwood, Cobourg, Alliston, Wasaga Beach, Valley East, Pembroke, Tillsonburg, Scarborough, Brampton, Vaughan, North York, Markham, Oakville, Pickering, Ajax, Whitby, Richmond Hill, Newmarket, Caledon, Burlington, Etobicoke